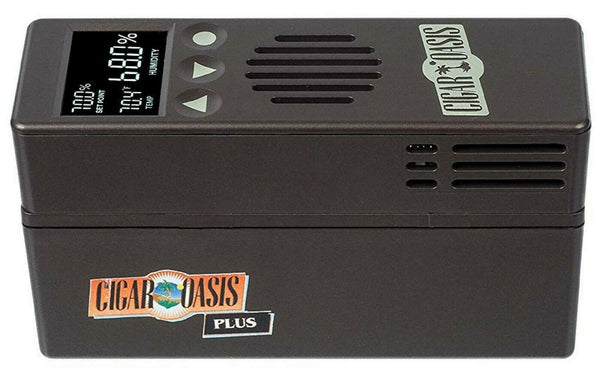 Cigar Oasis PLUS 3.0 Electronic Humidifier - up to 1000 cigar capacity (NEW VERSION)
Cigar Oasis INC
---
---
---
Designed for up to 1000 capacity cigar end table-humidors (up to 10 cubic feet).
Dimensions: Length: 6" Width: 2" Height: 3.5"
The Cigar Oasis PLUS 3.0 is an electronic humidifier that is fully automatic. While it is the same size as the EXCEL, the basic difference is in the change of airflow and water cartridge to allow the unit to pick up more moisture and provide more rapid humidification for larger enclosures, chests and end table humidors.
The Cigar Oasis PLUS 3.0 comes standard with a large water cartridge, which uses foam to eliminate water splashing around. The large LCD displays the humidity and temperature in the humidor and also displays the current setpoint. The unit is factory set at 70% RH, but can be adjusted to your own personal taste. The user may refill the water cartridge according to the manufacturers' instructions with distilled water when the indicator flashes "H2O". The Cigar Oasis PLUS 3.0 has a built-in system, which accurately monitors the humidity and uses a quiet fan to circulate the air in the humidor eliminating "musty" odors so common in well-sealed humidors. The Cigar Oasis PLUS 3.0 now has built-in Smart Humidor® Wi-Fi which allows users to adjust and monitor humidity remotely from any iOS or Android smart device with a subscription.
The Cigar Oasis PLUS 3.0 is designed to always keep your cigars fresh.
The Cigar Oasis PLUS 3.0 is the most powerful active humidifier in its size - perfect for small cabinets, end tables & coffee table humidors.
    Large LCD with backlit humidity & temperature display
    Soft-Touch button control

    Micro-USB connection with streamlined ribbon cable connection
    Extra-long lasting cartridge
    Provides consistent, maintenance free, long-term humidity control
    Circulates humidity - No need to rotate cigars
    Set humidity to the preferred level
    Built-in Smart Humidor (Wi-Fi) technology for remote monitoring and     control - NEW (subscription required)
Please note - It is recommended that distilled water is used with all Cigar oasis products. You will need a USB power supply or USB phone charger to power the unit.

---
Share this Product
---
---
---